Hydrating CBD Face Wash (100mg Full Spectrum)
$39.95
Pacific Roots 100mg Full Spectrum CBD Hydrating Face Wash delivers a powerful cannabinoid punch for healthy looking skin. The combination of full spectrum CBD and sweet orange essential oil creates a perfect combination for a soothing and softer feeling face, while providing protection from occlusion in pores. Wake up every morning and go to bed every night with your face feeling refreshed and hydrated by incorporating face wash with CBD into your routine. Pacific Roots' hemp hydrating CBD face wash has a rich profile of cannabinoids, flavonoids, and terpenes. We've formulated our hemp CBD face cleanser with whole-plant, full-spectrum CBD that contains at or less than 0.3% THC that leaves the skin moisturized and bright.
4oz 100mg CBD full spectrum face wash in a black squeeze bottle
Sweet orange scent
Hydrates and refreshes while removing dirt and impurities.
Non-greasy
CBD derived from USA organically grown hemp
USDA Farm Bill compliant containing THC at or less than 0.3%
Natural Ingredients
Vegan
No added fillers
Manufactured in a certified cGMP facility
Made in the USA
Third-party tested for hemp compliance and purity
Non-GMO
CBDTQM certified, making our cannabidiol hydrating face wash the highest quality on the market
BENEFITS
Pacific Roots 100mg CBD Full Spectrum Face Wash delivers the "entourage effect" by packing a rich profile of cannabinoids, flavonoids, and terpenes into a clean and refreshing hemp face wash.
Our full spectrum CBD face cleanser is professionally formulated to provide a deep cleansing effect without drying out the skin. It contains essential dermal antioxidant vitamin C, along with sweet orange essential oil, which gives it a light and refreshing scent. The witch hazel combined with the CBD helps with skin irritations. It will leave the skin feeling clean, soft and hydrated. This CBD infused face cleanser will gently lift away dirt and impurities as it penetrates your skin. Gently rub on and then rinse off easily with water. No greasy residue is left behind!
Description
Pacific Roots 100mg CBD full spectrum hydrating face wash is made to assist your skin in hydrating and smoothing out troubled areas. It comes in a 4oz black squeeze bottle. We've formulated a high concentration of whole-plant, full-spectrum CBD that contains at or less than 0.3% THC and leaves the skin moisturized and bright. Your body can only absorb so much CBD through the skin! Don't overpay for high milligram face washes that will just be washed away. We've formulated for optimal absorption and targeted delivery. Just what you need, nothing else. Pacific Roots keeps it simple and pure. Our CBD Hemp is derived using a proprietary state of the art extraction process. The final stages of the hemp extraction leaves the pure full spectrum CBD distillate oil that's used in our hemp face cleanser. All full spectrum CBD oil used is carefully selected and third-party tested to ensure quality and purity.
Made from organically grown USA Hemp
Sustainably Farmed
Non-GMO
3rd Party Tested
Made in the USA
Made in a certified GMP Lab
Compliant levels of THC at or below 0.3%THC
⚠️WARNING: This product can expose you to chemicals including beta-myrcene, which are known to the State of California to cause cancer, and Δ9-tetrahydrocannabinol (Δ9-THC), which are known to the State of California to cause birth defects or other reproductive harm. For more information go to www.P65Warnings.ca.gov. This product could cause you to test positive for THC.
SUGGESTED USE
Use Pacific Roots full spectrum CBD face wash morning and night on all skin types for a natural radiance!
Wet your skin. Apply Pacific Roots face wash with CBD on your face. Gently massage for 30 seconds every morning and evening. Rinse and pat dry.
This product is for external use only. Use only as directed. Avoid eye contact. Do not apply to open wounds. If adverse reactions occur, discontinue use and contact your primary care physician.
INGREDIENTS
Deionized Water, Calendula Extract, Vitamin D, Disodium Laureth Sulfosuccinate, Sodium Cocoamphoacetate, Sodium Lauryl Sulfoacetate, Witch Hazel, Sodium PCA, Decyl Polyglucoside, Sucrose Cocoate, Phenoxyethanol, Panthenol Glycol, Sorbic Acid, Disodium Edta, Sweet Orange Essential Oil, Full Spectrum Hemp Cannabinoid (CBD) Extract.
LAB TEST
Pacific Roots CBD Face cleanser third-party lab test results are available here.
WHAT IS A CBD FACE WASH?
CBD face wash is a gentle cleanser used to provide a dose of CBD (cannabidiol) to your face and neck. These face washes are made to help support your skin's natural oil production and return your skin tone to its natural shine with a glowing, even complexion.
Pacific Roots Full Spectrum Hydrating Face Wash will penetrate the skin to take hold of dirt and impurities. Simply rinse off with water. No greasy residue left behind!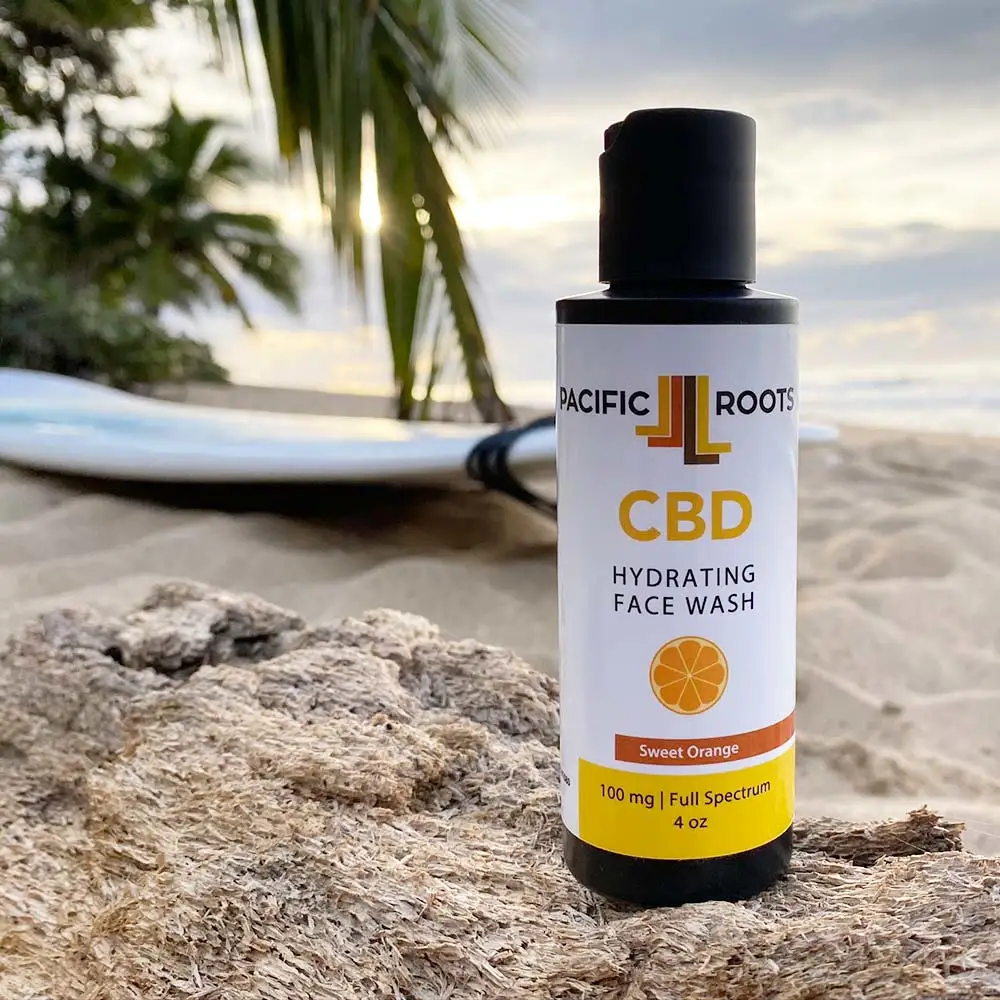 Copyright © 2021 Pacific roots All Rights Reserved.